Welcome to Pearson-McGonigle Hall
The Nancy & Donald Resnick Academic Support Center for Student-Athletes is located in the newly renovated Pearson-McGonigle Hall. This modernized, 30,500-square-foot building houses a large arena that seats almost 4,000 spectators who come to watch basketball, fencing, gymnastics and volleyball competitions, to name a few.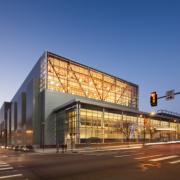 Resnick Academic Support Center for Student-Athletes
The Resnick Center, which was opened in the fall of 2014, occupies approximately 4,500 square feet of the first floor of Pearson Hall. The glass enclosed facility is directly adjacent to the atrium and allows for considerable visibility and transparency of the Resnick Center operations.
The Resnick Center is equipped with offices for all professional staff, as well as three breakout rooms for student use and a multi-purpose conference room. The breakout rooms and conference rooms are equipped with collaborative technology to meet the needs of students. The Center also has a full service computer lab with 36 Mac and PC desktop computers and seating for 48 in the laptop lounge area, which is primarily used for tutorial services. The entire facility is wi-fi enabled, including wireless printing.