The members of our academic support staff have been carefully selected for their investment in student-athletes, their enthusiasm about education and their skill in establishing effective relationships among students, coaches, and faculty.
Every day, our team carries out Temple's mission to provide superior academic, personal and professional guidance to all Temple student-athletes.
It is the impeccable quality and unparalleled caliber of our staff that sets us apart from other academic advisory programs and makes us not only the largest academic support department in the American Athletic Conference but-in our humble opinion-also the best.
Most of our staff members have been student-athletes themselves, and they have worked or played-or sometimes both-at the following institutions:
• Temple University
• Penn State University
• Southern Methodist University
• University of Central Florida
• University of Iowa
• University of South Florida
• Northwestern University
• University of Minnesota-Twin Cities
• North Carolina State University
• Rutgers University
• Syracuse University
• Arizona State University
• Florida Atlantic University
• University of Tennessee
• Johns Hopkins University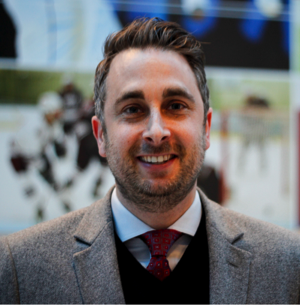 Justin Miller
Senior Director
Nancy & Donald Resnick Academic Support Center for Student-Athletes
jsm@temple.edu
Justin holds a bachelor's degree from Muhlenberg College in Allentown, Pa., and master's degrees in business administration and sport business management. During his graduate  studies, he served as the Research Coordinator for the 2004-5 Racial Gender Report Card and worked with the National Football League Players' Association in Washington, D.C. He has  also worked with the Tampa Bay Buccaneers, the Cleveland Cavaliers and Emmanuel College in Boston, Mass.
Justin, a native of Buffalo, N.Y., joined Temple University as the Senior Director of the Resnick Center in 2010 after serving for five years as Assistant Director at the University of South Florida's Academic Advising and Support Center.
Justin lives in Philadelphia with his wife, Mary and sons, Wesley and Cash.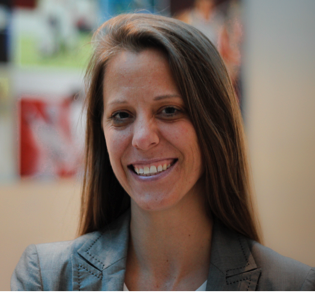 Tara Evans
Associate Director
Men's Basketball, Women's Soccer and Field Hockey
215-204-2514
tara.evans@temple.edu
Tara Evans joined the Nancy & Donald Resnikc Academic Support Center for Student-Athletes as a Senior Advisor in August 2014.  Prior to her arrival in the Resnick Center, Tara served as the Counselor Coordinator at Temple's Russell Conwell Learning Center.
Evans was a student-athlete at Syracuse University where she earned her bachelor's degree in Sociology, while competing on Syracuse's Swimming & Diving Team.  Following her time in upstate New York, Tara earned her master's from Springfield College in Counseling and Psychological Services with a specialization in Athletic Counseling.
Joining the Resnick Center staff marks Tara's return to working with student-athletes after having worked in similar capacities at Villanova University and Florida Atlantic University.  During her career as an athletics advisor Tara has worked with numerous different teams and coordinated various support serivces, culminated by her being named the Associate Director at FAU while working with the men's and women's basketball and football programs.
Tara has two daughters named Morgan and Taylor.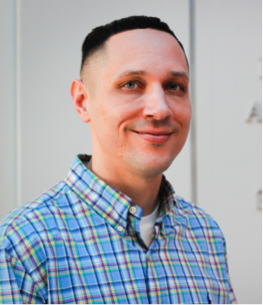 Nick Plack
Senior Advisor
Women's Indoor/Outdoor Track, Men and Women's Cross Country, Men's Golf, Men and Women's Tennis and Volleyball
215-204-7413
nplack@temple.edu
Nick began his career as a Nittany Lion, receiving his bachelor's degree in human development and family studies from Penn State. While matriculating, he also earned Academic Big-Ten honors as a high jumper and triple jumper. Upon graduation, Nick took on a graduate assistant-ship at Morgan Academic Support Center for Student-Athletes, where he earned a M.Ed. in higher education and administration.
Before arriving at Temple, Nick worked at Southern Methodist University, overseeing the football, women's basketball and volleyball teams.
In his free time, Nick loves spending time with his daughter, Jasmine, running, playing basketball, riding his road bike, and reading novels.
"My most rewarding experience working at the Resnick Center is being able to develop relationships with the student-athletes and watch their progression as a freshman all the way to graduation. I also enjoy trying to support each athlete in their academic and personal goals and finding paths to become successful in their career after Temple."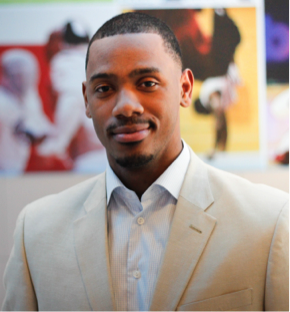 Da'Mon Merkerson
Assistant Director
Football, Fencing
215-204-9841
DaMon.Merkerson@temple.edu
Da'Mon Merkerson comes to the Resnick Center from Lindenwood University where he provided transitional academic support services for Lindenwood's football student-athlete. A dual-sport student-athlete, Da'Mon earned his bachelor's degree from Syracuse University while competing for the Orange on the football field, as well as the track.
Upon graduation from Syracuse, Da'Mon joined the Arizona Cardinals for training camp and ultimately signed with Arizona Rattlers of the Arena Football League.  While in Arizona, Da'Mon enrolled at Arizona State University where he completed his master's degree in higher education while working as a mentor for the Sun Devil's football team.
From Passaic, New Jersey, Da'Mon will be working with the Tempe football freshmen student-athletes, focussing on their successful assimilation to university life.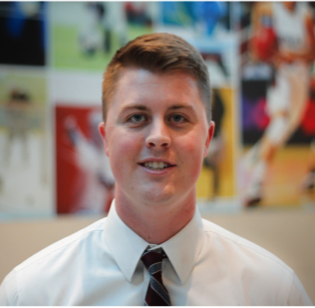 Reid Vanderlinden
Advisor I
Football, Women's Soccer
215-204-9346
reid.vanderlinden@temple.edu
Reid Vanderlinden joined the Resnick Center staff in the summer of 2015 after serving for two years as an academic support graduate assistant with the Penn State University football program, earning his M.Ed in Higher Education Administration.  A State College, Pennsylvania native, Reid is a 2013 graduate of Johns Hopkins University, where he earned a bachelor's degree in Political Science while playing defensive back for the football team.  Currently, Reid works with football team's offensive upperclassmen.
"My greatest motivation at Temple is to continue to build on the pattern of academic excellence that our students and staff work so hard to achieve.  Watching our student-athletes grow as individuals and leave with degrees and high hopes is the rewarding experience that I work towards every day."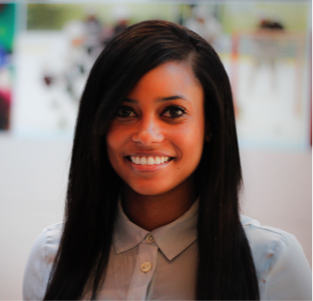 Irie Dennis
Advisor I
Football & Women's Basketball
215-204-9623
irie.dennis@temple.edu
Irie Dennis joined the Resnick Center Team as an academic advisor in September 2015.  Irie, a native of Columbus, Ohio, received her B.S. from Grand Valley State University in Grand Rapids, Michigan.  During her time at Grand Valley Irie was a four-year member of the Women's Soccer team which culminated in winning a national championship in 2009 and was named NCAA Division II National Player of the year as a senior.  Irie then went on to receive her M.Ed from University of South Florida in College Student Affairs.
Prior to joining the Owls, Irie completed an internship with Academic Services for Student-Athletes at the University of Central Florida and most recently served as a graduate assistant counselor in Student Support Services at the University of South Florida.
"I find it tremendously rewarding working in the Resnick Center where knowledge and skills are cultivated and shared. I am fully invested in making a difference in the lives of the student-student athletes I work with.  Watching student-athletes reach that 'aha!' moment is one of my most gratifying experiences while working in the Resnick Center."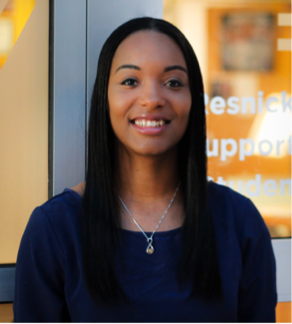 Paris Williams
Senior Learning Specialist
LEAD Program, Tutor Coordinator
215-204-4591
paris.williams@temple.edu
Prior to her work in the Resnick Center, Paris was a four-year member of Temple's track and field team, graduating in 2011 with a degree in social work. During that time, she was a multiple time Atlantic-10 Conference champion. She became a graduate assistant at the Resnick Center in the fall of 2012 and then was promoted to a full time Learning Specialist in November, 2013. Paris, originally from Maryland, recently completed her master's degree in Social Work at Temple and has been a phenomenal resource for the Owls.
"My most rewarding experience at the Resnick Center has been watching all of my students develop as learners and young adults. It has been rewarding to see the students trust our office and buy into the services we provide. Nothing beats seeing my students work their hardest and be proud of their accomplishments!"
Kate Cappetta
Learning Specialist, Tutoring Program
LEAD Program
tug81397@temple.edu
With a Bachelor of Arts from the Catholic University and experience in corporate hospitality, in 2006 Kate relocated to Philadelphia. Here she earned her master's degree in education from Chestnut Hill College.
Education and special education have remained her focus and passion for a decade. She has been working to create positive and supportive learning environments for students as they strive to explore their interests and achieve their goals.
Kate was recently recognized with the Lindback Foundation's Distinguished Teaching Award.
Taylor Gillie
Learning Specialist, Tutoring Program
LEAD Program
215-204-8581
taylor.gillie@temple.edu
Taylor Gillie joined the Resnick Center as a Learning Specialist in July 2017. Prior, she worked as an assistant academic advisor for men's basketball, women's basketball, baseball, and women's soccer in Academic Services for Student-Athletes (ASSA) at the University of Central Florida while earning a master's in Educational Leadership/Higher Education & Policy Studies.
A native of Fort Wayne, Indiana, Taylor competed on the volleyball team at Stony Brook University while completing her bachelor's in Anthropology and Sociology in 2015.
"My goal is to provide student-athletes with a supportive environment where they can build confidence in the classroom that will translate to even more success in their sport."
Cheryl Cummings
Administrative Assistant
215-204-9002
cherylc@temple.edu